Dauban V240
| | |
| --- | --- |
| name | Dauban V240 |
| constellation | Vul |
| J2000.0 | 19 33 44.62 +25 08 20.0 |
| other names | 2MASS J19334461+2508200 |
| type | EA |
| mag range | 12.8 - 13.5 CR |
| period (days) | -- |
| epoch | -- |
| color | J-K = 0.52 |
| remarks | -- |
| links | -- |
| discovery | 01/10/2012 |
DSS2-R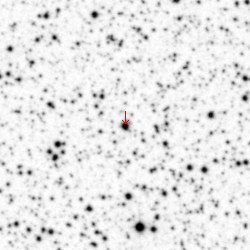 DSS2-IR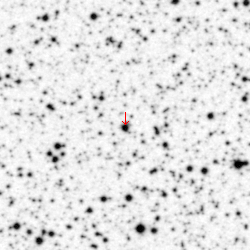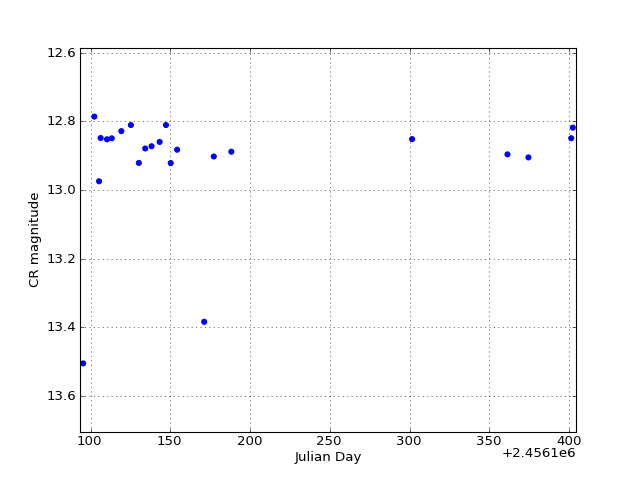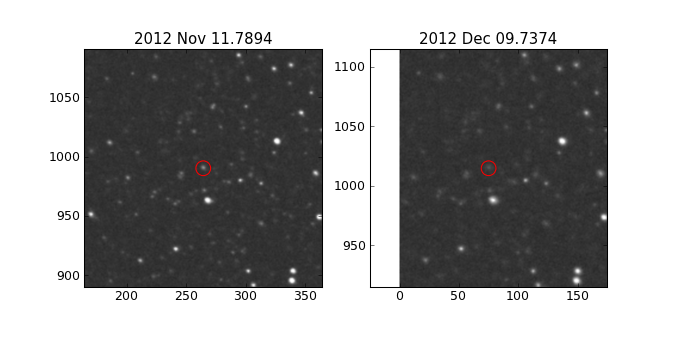 Confirmation of variability
Additional observations have been made with a 200mm reflector. The data confirms the occurrence of eclipses.
Photometric data
We provide magnitude data in the tables below. All the images have been carefully checked prior to photometry based on the following criteria: (1) normal value of magnitude zero point, (2) sky background is uniform across the image, (3) air mass < 2.5, (4) stars are sharp and not elongated in the E-W direction, (5) for the 80mm refractor only: accuracy of astrometric reduction is better than 0.5 pixel.
For the 80mm refractor, three 10 sec exposures are taken. The magnitudes are measured on the median of the three images.
For the 200mm reflector, the exposure and number of images taken is changing. The magnitudes values are measured on each individual image. For each night, a median is taken over several consecutive measurements to obtain the final magnitudes reported in the table. The number of values used for the median is indicated in the table third column. If it is greater than 3 the data is very reliable. If only 1 image was used, the data is probably fine but we cannot guarantee it does not contain an error.
Dauban Survey (80mm F/7.5 refractor)
Julian date
CR magnitude
2456195.359953
13.506
2456202.337395
12.786
2456205.317404
12.975
2456206.309562
12.849
2456210.286760
12.852
2456213.273101
12.850
2456219.267939
12.829
2456225.265248
12.811
2456230.258216
12.921
2456234.264947
12.879
2456238.250270
12.873
2456243.289448
12.860
2456247.258876
12.811
2456250.242668
12.922
2456254.241436
12.883
2456271.237415
13.384
2456277.244660
12.903
2456288.242636
12.889
2456401.580614
12.852
2456461.392453
12.896
2456474.536945
12.905
2456501.382385
12.849
2456502.370222
12.818
2456516.552051
13.016
2456523.358675
12.804
2456558.386103
12.837

LX200 (200mm F/10 reflector)
Julian date
CR magnitude
number of images
used for photometry
2456504.360318
13.738
15
2456504.403266
13.607
15
2456504.447386
13.406
15
2456504.491824
13.216
15
2456505.404785
12.840
3
2456505.424565
12.827
3
2456505.444657
12.843
3
2456505.464141
12.836
2
2456505.484232
12.835
3
2456506.339095
12.838
3
2456506.357919
12.822
3
2456506.376696
12.840
3
2456506.396546
12.846
3
2456506.432094
12.820
3
2456507.357875
12.870
1
2456507.358045
12.868
1
2456507.358213
12.859
1
2456508.355842
12.841
3
2456508.374207
12.842
3
2456508.392358
12.827
3
2456508.410824
12.836
3
2456508.429472
12.878
3
2456509.363062
13.838
3
2456509.379693
14.009
3
2456509.396782
13.922
3
2456509.414107
13.699
3
2456510.342455
12.861
1
2456510.342609
12.854
1
2456510.342771
12.807
1
2456513.351716
13.560
1
2456513.351891
12.864
1
2456513.352062
12.842
1
2456515.367031
12.826
25
2456515.391697
12.848
25
2456515.415740
12.848
25
2456515.439950
12.840
25
2456515.464368
12.838
25
2456515.488783
12.840
25
2456515.513211
12.837
25
2456515.537875
12.839
25
2456515.562519
12.844
25
2456515.579749
12.839
10
2456516.376148
12.849
25
2456516.400320
12.831
25
2456516.424675
12.841
25
2456516.449673
12.833
25
2456516.475733
12.832
25
2456516.501401
12.844
25
2456516.527362
12.841
25
2456516.552472
12.838
25
2456516.579043
12.843
27
2456517.355575
12.848
25
2456517.379449
12.860
25
2456517.401964
12.850
25
2456517.424485
12.856
25
2456517.446963
12.855
25
2456517.469449
12.856
25
2456517.491939
12.860
25
2456517.514473
12.859
25
2456517.539843
12.869
31
2456520.341999
12.847
25
2456520.377512
12.850
25
2456520.411127
12.853
25
2456520.446315
12.848
25
2456520.478299
12.846
25
2456520.509619
12.854
25
2456520.541775
12.854
25
2456520.574965
12.853
25
2456520.614271
12.865
34
2456521.341023
12.850
25
2456521.373597
12.848
25
2456521.404643
12.845
25
2456521.433216
12.843
25
2456521.461733
12.847
25
2456521.490116
12.842
25
2456521.518550
12.848
25
2456521.547142
12.856
25
2456521.577448
12.850
25
2456521.608468
12.855
25
2456521.633744
12.876
19
2456523.457148
12.855
25
2456523.542201
12.863
23
Period search
Eclipses have been observed at these dates:
Eclipse julian dates
2456195.359953
2456271.237415
2456504.360318
2456509.379693
A period search gives the following phase residual: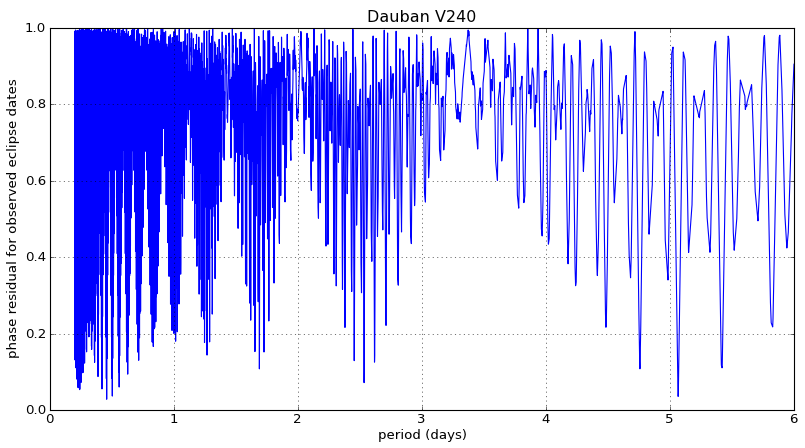 Possible periods are:
Possible periods
5.066 days
2.5328 days
1.6885 days